The Orc's Demise
by Darren Dare
The Orc's Demise is a small and quaint little inn located on the corner of a street in Fellaren-Krae's dock area (exact location yet to be decided). The building is small but constructed from immense logs and cut planks, giving it a rustic appearance. Although located near the docks of the city, the residents of Fellaren-Krae know of the inn's reputation as being a peaceful and reputable establishment.
The Inn
A. Dining Room
The dining room of the Orc's Demise is as rustic as the inn's outer shell. Large beams and studs cut from oak and elm support the ceiling and walls. All about the room hooded lanterns have been hung, giving the dining area a warm, cozy feeling. Along the back wall great picture windows have been placed to give patrons a full view of the street while they eat. Two large glass double-doors also stand along this wall, allowing access to a covered balcony spanning the entire rear of the inn. The smell of cooking food teases the pallet from the kitchen beyond, where the sounds of preparation can be heard. The entire room is dotted with sizable round tables, each surrounded by several chairs.
To the left as you enter is a wooden bar. Stools line this side of the bar, giving patrons a comfortable place to relax as they sip upon ale or wine. Standing over the bar by some two feet is a dwarf. He busily shuffles back and forth along the length of the bar serving patrons and cleaning glasses. His beard and hair, red as the blood from a fresh wound, are braided into several long ponytails to keep it under control. He is continuously wiping his gnarled hands upon his apron as he works, which is severely soils from many years of the same abuse. With each serving of drink or food, the sturdy little dwarf thanks his patron with a brief nod and a quick but meaningful "fare well".
Above the fireplace is a large wooden plaque carved with fine detail. This is the inn's menu. Patrons must go to the bar with their order and then return later when called to pick up their meal. Drinks may be ordered directly from the bar and are served immediately.
---
Meals

Venison (marinated in red wine and spices)

2sp

Pork (chops or ribs)

1sp

Bacon

6cp

Rabbit (cooked in red wine and garlic)

4cp

Hot Sausage and sauce

5cp

Quail (if available)

4cp

Pheasant (steamed in wine, if available)

5cp

Goose or Duck

5cp

Chicken

4cp
Lighter Fare

Cold Meats

4cp

Stew or Soup

3cp
| | | |
| --- | --- | --- |
| Drink | Tankard\Tall Glass | Bottle\Keg |
| Ale | 1cp | 4cp |
| Stout | 2cp | 8cp |
| Mead | 3cp | 12cp |
| Whisky | 1sp | 1gp |
| House Wine | 1gp | 10gp |
The dwarf is Brimley Firebeard. He and his wife Abryn are the owners of the inn as well as its only employees. Brimley takes care of the serving of drinks and meals, as well as the collecting of money. His wife does all of the cooking and cleaning. Anyone sneaking a peak over the bar will see the dwarf moving back and forth upon a raised wooden platform. This allows him to work and at the same time giving his patrons normal service.
Brimley will not be able to talk to PCs for any length of time while working, but if the party contains a dwarf he will come to their table after they have finished their meal and exchange greetings.
Brimley is a Shield Dwarf from Citadel Adbar, where he spent most of his life battling the orc and goblin hoards of Hellgate Keep. He is a seasoned warrior with a strong arm from swinging his battle-axe. Although long since retired from battle, this aging dwarf is still capable of disemboweling all but the mightiest of opponents.
Brimley Firebeard (10th Level Fighter)
STR:

18/71

DEX:

15

CON:

17

WIS:

12

INT:

10

CHA:

12

Race:

Shield Dwarf

Alignment:

Lawful Good

Sex:

Male

Hit Points:

87

Armor Class:

9(2)

Movement:

6

Morale:

18

#AT:

2/1

THAC0:

11

Special Attacks:

Specialization

Damage:

By weapon type +5

battle-axe +3, chainmail +4, light crossbow of speed
Brimley is jovial and business-like, but always finds entertainment from a good story of battle and adventure. He often indulges in too much of his own homemade wine, much to the chagrin of his wife who is a bit of a nag. But if allowed to reminisce, he can go on for hours about orc invasions and the incredible battles he has seen.
B. Kitchen
A large plate-glass window allows plentiful amounts of light into this chamber, keeping it bright. A massive stone fireplace sits along the north wall, a fire burning steadily within. In the center of the room is a large block of wood, marred by many scrapes and cuts. Its original color is lost amongst stains of food and blood. Pots and pans of all shapes and sizes hang from the walls, all at a convenient height of three feet. Along the southern wall is a large bookcase-like shelf, jammed full of jars and bottles of spices, herbs and the like.
During regular business hours Brimley's wife Abryn will be found here busily preparing food. She does not take kindly to patrons in her kitchen and will chase them out with a waving cleaver and a stern warning. This is usually followed promptly by a cold remark to Brimley for letting them in.
STR:

13

DEX:

13

CON:

14

WIS:

13

INT:

10

CHA:

10

Race:

Dwarf

Alignment:

Neutral Good

Sex:

Female

Hit Points:

9

Armor Class:

9

Movement:

6

Morale:

14

#AT:

1

THAC0:

20

Special Attacks:

Specialization

Damage:

By weapon type

cleaver or knife
C. Private Sleeping Quarters
A slow burning hooded lantern that hangs from a peg on the far wall lights this chamber. No windows allow light from outside to penetrate. A small double bed is placed against the wall along with a low night table. Upon this table sits a plain iron candleholder with a half burner taper. The chamber is plain and unadorned, with the exception of a small shelf unit against one wall. Upon the shelves are an assortment of books and parchments. This is the bedroom of Brimley and Abryn. Its simple furnishings suit their needs fully. The books upon the shelves are all of Brimley's journals from days past. All are written in Dethek Runes and detail his adventures and battles as a warrior at Citadel Adbar. Under the bed Brimley has hidden two strongboxes. The first is the inn's treasury. It presently contains 350 gp, 201 sp, and 33 ep. The second is his personal chest. This large, flat strongbox contains Brimley's crossbow of speed, chainmail +4 and his battle-axe +3. The latter is a weapon of dwarven make and etched with Dethek Runes that trace his family lineage. This axe has been handed down from generation to generation for 300 years. To this day, no dwarf wielding this weapon has ever fallen in battle. The keys to both strongboxes are worn on a chain around the dwarf's neck.
D. Double Room (15sp / night)
Containing two small beds, this chamber is plain but comfortable. Light enters by way of a window placed in the roof. At the foot of each bed is a small chest for personal belongings and a small circular table is near the door along with two chairs.
E. Single Rooms (8sp / night)
Each of these rooms is similarly furnished, with one bed, a footlocker and a small table. Light is allowed to flow in from windows in the roof as in the double room. The only difference between that room and these is the number of beds.
F. Suite (25sp / night)
Compared to the other rooms in the inn, this one is truly grand. Four single beds are here, each with their own personal footlocker. A large table occupies one end of the room with four high-backed chairs. Upon the table is a small five-gallon cask and four glasses, a complimentary sample of Brimley's homemade stock. Another small door leads off of the room to a tiny closet lined with pegs for the hanging of cloaks and furs. The chamber is cozy, even for its size.
G. Cellar
Accessible only by a door on the outside leading to stairs down, this cellar is damp and chilly. Four strong timber posts have been driven into the hard, packed earth floor to support the weight of the inn. Scattered about this underground chamber are assorted piles of crates, bags, barrels and casks. Each of the piles is stacked neatly and the contents of each container are clearly marked.
This is Brimley's storage area. It is here that he keeps all of his vegetables, wines, ales, and dried foods. His meat is not stored, but rather brought fresh every morning from other merchants in town.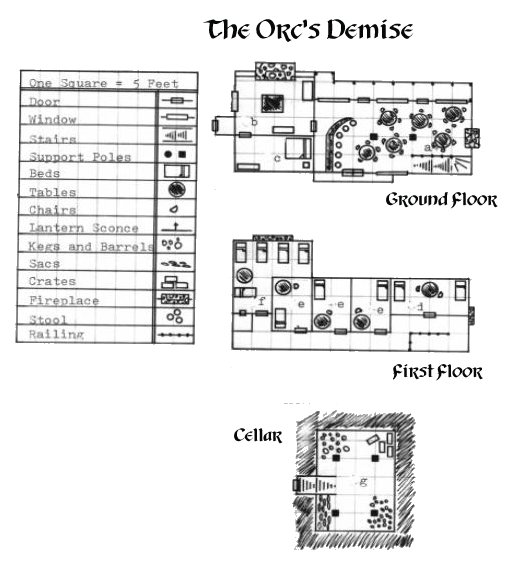 ---