The following is taken from a description on the Play.com website:
'Bards sing tales of heroes from ages past, but never have the Forgotten Realms so desperately needed a champion. Years have passed since the war between Luskan and Neverwinter, almost enough time for the wounds of war to heal. But the brief peace the Realms have known may be at an end. Tension growing between the mighty city-states means the Sword Coast again teeters on the edge of open war. Unnoticed, a greater danger stalks the City of Skilled Hands. Unbeknownst to the denizens of the North, deep in the Mere of Dead Men, dark forces from across the Realms have been rallied under the banner of a legendary evil. If left unchallenged, all of the North is doomed to fall under its power.
Even in this darkest hour, hope remains. A mysterious relic is borne to Neverwinter in the hands of a lone hero so that its secrets may be unlocked - secrets that carry the fate of all the North. So begins an epic tale of shattered alliances, noble acts and dark deeds to be told across the Realms for generations to come.'
This game is available in three different packages in the UK. Aside from the standard version, a "Lawful Good" package available from "Play.com" and a "Chaotic Evil" package from "Game" are available. The contents of these special versions are as follows:
Neverwinter Nights Figurine
40 page Neverwinter Nights Art Book
Pewter Ring
A3 Cloth Map
Artwork & Music DVD
Neverwinter Nights 1 + Both Expansion Packs
10 Pre-Generated good characters
In Game Item - The Blessed of Waukken
Special Edition Packaging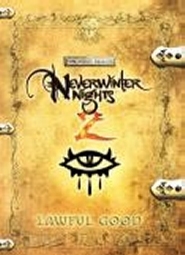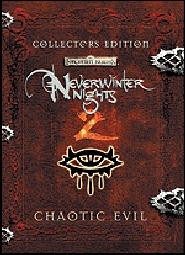 Visit the official Neverwinter Nights 2 website!
See also: